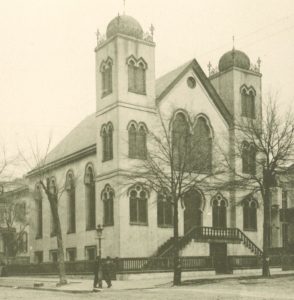 The Temple of Israel is proud to have the oldest Jewish house of worship in North Carolina. Forty families organized the congregation in 1872 and the Ladies Concordia Society, our sisterhood, was also organized that same year. Begun in 1875 and completed in 1876, the beautiful Temple structure was built in the Moorish Revival architectural style of building, which was then popular for synagogues in both Europe and the United States. Today the Temple is one of fewer than thirty Jewish congregations to endure in its original nineteenth century structure. 
The Temple of Israel was officially dedicated on May 12th, 1876, with Rabbi Samuel Mendelsohn presiding. His tenure spanned a remarkable forty-six years (1876-1922). In his initial sermon, he spoke about Jewish liberty, which had been slowly won through the ages.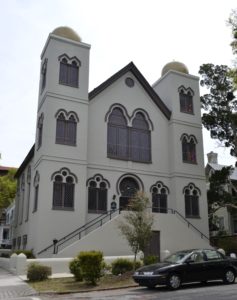 In 1878 when the Temple of Israel  officially affiliated with the Union of American Hebrew Congregations (the Reform movement) there were 200 Jews in Wilmington. By the turn of the twentieth century, Temple of Israel's merchant families had expanded their businesses to form some of the largest retail and wholesale companies in the city, and these families also began a long history of Temple activism in local politics, civic and social organizations, and philanthropy.
 During the twentieth century, the congregation experienced periods of both expansion and decline along with the fortunes of the city. Military activity in the area brought many new families into the Temple during World War II. As Wilmington began to grow rapidly in the late 20th century, numerous professional and business people moved to the area along with many retirees which led once again to an increase in Temple membership.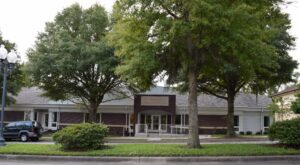 In 2015, Temple of Israel constructed and dedicated the Reibman Center for Kehillah which expanded the facilities to include a second campus. This indispensable structure houses the religious school, rabbi's study,  administrative offices, library, social hall, kitchen and meeting rooms. 
In September of 2019, Wilmington was devastated by Hurricane Florence.  It was challenging for the congregation and the community but with generous help we returned to our temple six months later.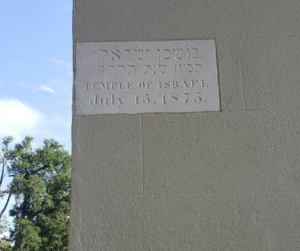 Presently, Temple of Israel is experiencing continued growth and our membership is as diverse as at any time in the congregation's history with members from around the world, college students, military personnel, retirees, and young families bringing life to our holy congregation.