Artifacts in the Temple of Israel Sanctuary
Inscription over Sanctuary Doors
Intended for the Temple it was mistakenly painted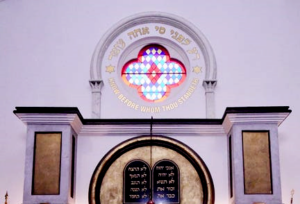 over sanctuary doors at neighboring St. James Church; now both buildings have the same blessing.
Judenstern 
Also known as Sabbath lamp, they were traditionally used by Jews in Europe from the middle ages. The one in the Temple foyer is mid-19th century and was originally lit with oil and later candles.
Chandelier
Tradition says the Spanish Revival light came from Landau, Germany. Several hundred years old, it was originally lit with candles and later gas. It was electrified in 1903.
Bimah
The platform leading up to the Ark holds the lectern and Victorian chain, which were original to the building.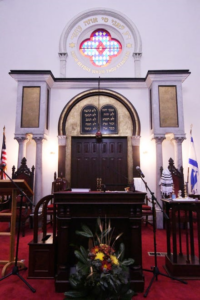 The candle stand and Torah stand are new additions. Candles are lit at the beginning of Sabbath services and the Torah rests in its stand when not in use.
Ark
As is traditional, the Ark is located on the eastern wall. It houses the Torah scrolls, the core writings in the Jewish religion or the five books of Moses. Above the Ark are the Ten Commandments and an inscription in Hebrew and English, "Know Before Whom Thou Standeth." The lamp in front of the Ark is called the Ner Tamid or the Eternal Light and it is original to the building.
Torahs
The Temple of Israel owns three Torah scrolls; the oldest one was used at the 1876 inaugural service. The Torah crowns and coverings are traditional ways of honoring the sacred texts. A yad or a pointer is used to avoid touching the Torah while reading it. Hebrew is written from right to left and Torah texts have no vowels.
Pews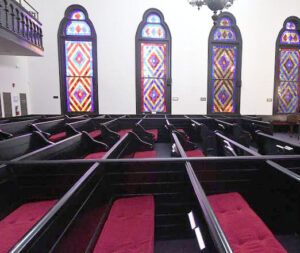 The pews are original to the building and reflect the Moorish architectural style. Originally assigned seating was given to subscribers. Today congregants sit where they please.
Stained Glass Windows
The geometric patterned windows create blended light within the sanctuary. They are typical of 19th century Moorish style synagogues.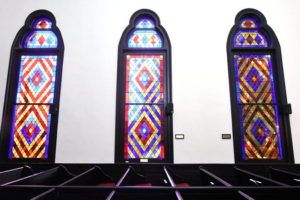 Organ
The Pilcher-Tracker organ, installed in 1906, was funded by the Ladies Concordia Society. Restored in 1990, it is only one of three such organs that remain in use.